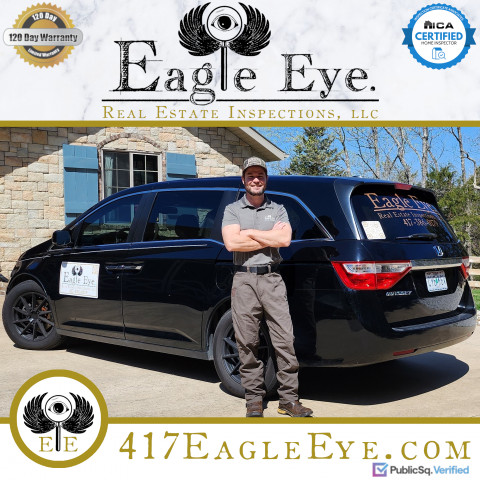 120-DAY HOME WARRANTY & LIMITED THERMAL IMAGING INCLUDED WITH SINGLE-FAMILY RESIDENTIAL PACKAGES! Eagle Eye Real Estate Inspections LLC is a Certified & Insured Professional Real Estate Inspector, with trade experience going back to 1997. We inspect single-family & multi-family residential homes, condos, alternative homes, and light commercial properties, as well as offer ancillary & standalone services.
All residential inspections include limited thermal imaging, carbon dioxide testing, indoor humidity testing, Gas leak testing, attached deck inspection, attached/detached primary garage & more!
We can also provide you with your 2D/3D floorplans, GLA reports & 3D-rendered home tours!
Visit our website to learn more, book an appointment or get an online quote. We proudly serve the greater Branson Tri-Lakes region.
Specialties
2D Floorplans
3D Floorplans
3D Video Tours
4 Point Insurance & Property Inspections
Aaahi Member
Alternative Home Inspection
Basement/Crawl Space/Slab Inspection
Certified Professional Inspector
Commercial & Apartment Property Inspections
Complete Home Inspection Services
Condominium Inspections
Deck Inspections
Drainage Issues
Electrical Inspections
Exterior Inspection
Floor Plans
Floorplans
Gla (Gross Living Area) Reports
Home Buyer's Inspection
Home Inspection
Home Inspection Reports Within 24 Hours w/ Photos
Home Reports
Home Warranty Included
Ica Certified
Infrared / Thermal Scans
Insulation & Ventilation Issues
Insured
Interior Inspections
Kitchen And Bath Inspection
Light Commercial Inspection
Log Homes
Maintenance Inspection
Manufactured Home Inspection
Moisture & Water Infiltration Testing
Multi-Family Home Inspection
New Construction Inspections
Online Booking
Online Quotes
Pre-list Inspections
Pre-Listing Seller Inspections
Pre-Purchase Inspections
Pre-Sale Home Inspection
Promotions
Property Inspections
Real Estate Inspection Services
Real Estate Inspections
Real Estate Purchase Inspections
Residential Home Inspections
Roof Inspections
Septic Inspection
Single-Family Home Inspection
Spectora Inspector
Thermal Imaging
Town Home Inspections
Trained & Certified
Virtual Tours
Warranty Inspection
Well Inspection
Well Water Testing
Years Of Experience