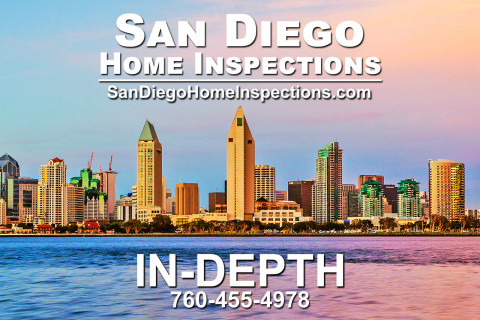 In-Depth Real Estate Services Co. offers San Diego Home Inspections throughout San Diego, Coronado, Del Mar, La Jolla, Rancho Santa Fe, Poway, Chula Vista, Carlsbad, Oceanside, Escondido and more.
With over 40 years experience in the home building industry, we offer information you can rely on. A Home Inspection is a vital part of the home buying process. According to the National Association of REALTORS® [NAR], nearly 60% of home buying transactions are contingent on a professional Home Inspection.
What is it and Why is it important? A Professional Home Inspection is an examination of the condition of a real estate property. A qualified San Diego home inspector assesses the condition of a property, including its heating and cooling systems, plumbing, electrical work, water, and sewage, as well as some fire and safety issues. In short, a San Diego Home Inspection is a limited, non-invasive examination of the condition of a home, often in connection with the sale of that home. CREIA Certified Inspectors have met and demonstrated some of the industry's strictest standards for certification.
What should be included in a San Diego home inspection? The objective of a San Diego home inspection is to identify any areas requiring repairs, either before or after purchase. As such, it should be as broad as possible, taking into account structural elements like the roof as well as utilities and systems such as the air conditioning system.
Call or visit our site today to get more information.
Service Areas:
Home Inspection, San Diego Home Inspection, 4S-Ranch, Alpine Home Inspection, Banker's Hill Home Inspection, Cardiff Home Inspection, Carlsbad Home Inspection, Chula Vista Home Inspection, Coronado Home Inspection, Carmel Valley Home Inspection, Crown Point Home Inspection, Del Mar Home Inspection, El Cajon Home Inspection, Encinitas Home Inspection, Escondido Home Inspection, Fallbrook Home Inspection, Fairbanks Ranch Home Inspection, Imperial Beach Home Inspection, La Costa Home Inspection, La Mesa Home Inspection, La Jolla Home Inspection, Lakeside Home Inspection, Lemon Grove Home Inspection, Leucadia Home Inspection, Mira Mesa Home Inspection, Mission Beach Home Inspection, Mission Hills Home Inspection, Mission Valley Home Inspection, National City Home Inspection, North County Home Inspection, Ocean Beach Home Inspection, Oceanside Home Inspection, Olivenhain Home Inspection, Pacific Beach Home Inspection, Point Loma Home Inspection, Poway Home Inspection, San Diego Home Inspection, San Marcos Home Inspection, Santee Home Inspection, Scripps Ranch Home Inspection, Solana Beach Home Inspection, Sorrento Valley Home Inspection, Ramona Home Inspection, Rancho Penasquitos Home Inspection, Rancho Santa Fe Home Inspection, Rancho Bernardo Home Inspection, Tierrasanta Home Inspection, UTC Home Inspection, Vista Home Inspection. Allied Gardens 92120, Alta Vista 92114, Barrio Logan 92113, Bay Park 92110, Blossom Valley 92021, Bonita 91902, Bostonia 92021, Broadway Heights 92114, Carlsbad 92008, Carmel Mountain Ranch 92128, Carmel Valley 92130, Casa De Oro 91977, Castle Park 91911, Centre City 92101, Chollas Creek 92105, Chula Vista 91910, City Heights 92105, Clairemont 92117, Coronado 92118, Crown Point 92109, Del Cerro 92120, Del Dios 92029, Del Mar 92014, East Lake 91913, Eastlake Greens 91915, Eden Gardens 92075, El Cajon 92020, Emerald Hills 92114, Encinitas 92024, Escondido 92025, Fairbanks Ranch 92067, Fleetridge 92106, Fletcher Hills 92020, Flinn Springs 92021, Glenview 92021, Golden Hill 92102, Grant Hill 92102, Grantville 92120, Grossmont 91942, Hillcrest 92103, Imperial Beach 91932, Jamacha 92114 & 91935, Johnstown 92021, Kearny Mesa 92111, Kensington 92116, La Jolla 92037, La Mesa 91941, La Playa 92106, La Presa 91977, Lakeside 92040, Lakeview 92040, Lemon Grove 91945, Leucadia 92024, Lincoln Acres 91950, Linda Vista 92111, Little Italy 92101, Logan Heights 92113, Loma Portal 92110, Lomas Santa Fe 92075, Lomita 92114, Lynwood Hills 91910, Memorial 92113, Middletown 92103, Mira Mesa 92126, Miramar 92126, Miramar Ranch 92131, Mission Bay Park 92109, Mission Beach 92109, Mission Hills 92103, Mission Valley 92108, Mission Village 92123, Mount Helix 91941, Mount Hope 92102, Mount View 92113, National City 91950, Navajo 92120, Normal Heights 92116, North Bay Terraces 92114, North Encanto 92114, North Park 92104, Oak Park 92105, Ocean Beach 92107, Oceanside, Old Town 92110, Otay 91911, Otay Mesa 92154, Pacific Beach 92109, Palm City 92154, Paradise Hills 92139, Peninsula 92106, Point Loma 92106, Rancho Bernardo 92128, Rancho Penasquitos 92129, Rancho San Diego 91978, Rancho Santa Fe 92067, Rolando 92115, Roseville 92106, Sabre Springs 92128, San Carlos 92119, San Marcos, San Diego (downtown) 92101, San Ysidro 92173, Scripps Miramar Ranch 92131, Serra Mesa 92123, Sherman Heights 92102, Skyline 92114, Solana Beach 92075, Sorrento Hills 92130, Sorrento Mesa 92121, Sorrento Valley, 92121, South Bay Terraces 92139, South Encanto 92114, South Park 92102, Southcrest 92113, Spring Valley 91977, Stockton 92102, Sunnyside 91902, Talmadge 92115, Tierrasanta 92124, Torrey Pines 91014, University City 92122, University Heights 92116, Uptown 92103, Valencia Park 92114, Via De La Valle 92014
Specialties
4 Point Insurance & Property Inspections
Available 7 Days A Week
Basement/Crawl Space/Slab Inspection
Certified Professional Inspector
Commercial & Apartment Property Inspections
Complete Home Inspection Services
Condominium Inspections
Deck Inspections
Drainage Issues
Electrical Inspections
Exterior Inspection
Fha 203K Rehab Loan Consultant
Field Service Inspections
Foreclosure Bank Inspections
Home Buyer's Inspection
Home Inspection
Home Inspection Reports Within 24 Hours w/ Photos
HUD 203K Consultant
Infrared / Thermal Scans
Insulation & Ventilation Issues
Interior Inspections
Kitchen And Bath Inspection
La Jolla Home Inspections
Licensed & Insured
Mechanicals
Moisture & Water Infiltration Testing
New Construction Inspections
Pool & Spa Inspections
PRE SALE INSPECTIONS FOR THE SELLER ARE AVILABLE SO YOU CAN SE
Pre-list Inspections
Pre-Listing Seller Inspections
Pre-Purchase Inspections
Pre-Sale Home Inspection
Property Inspections
Real Estate Inspection Services
Real Estate Inspections
Real Estate Purchase Inspections
Residential Home Inspections
Roof Inspections
San Diego Home Inspections
Structural Inspections
Town Home Inspections
Trained & Certified
Years Of Experience