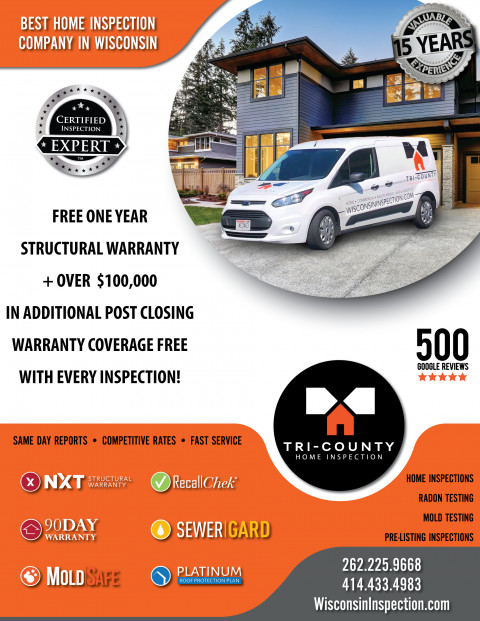 There are home inspectors, and then there are Certified Inspection Experts.
To view a sample report, please visit:
https://www.spectora.com/home-inspectors/tri-county-home-inspection-llc/sample_reports
For anyone in the process of buying a home, a home inspection from a certified expert is essential. Only one in eight home inspectors nation wide carries the certification of Certified Home Inspection Expert. With Tri-County, your Certified Inspection Expert has been not only certified by the State of Wisconsin, but also by a third party to ensure he or she meets and exceeds the requirements for training, reporting, and customer service.
Tri County Home Inspection, LLC is the premier home inspection company in Waukesha, Jefferson, Lake Geneva, Milwaukee, Fontana, Oak Creek, Franklin,Delafield, Oconmowoc, Dousman, Eagle, Pewaukee, Watertown, Mequon, Kenosha, Racine, Brookfield, and Walworth counties in Southeastern Wisconsin.
Give one of our local home inspection offices a call today to protect your investment.
No one wants a home inspection horror story. With over a decade of experience across thousands of local home inspections, we will help prevent them. Tri County Home Inspection only staffs Certified Inspection Experts, providing top quality service to every client.
In keeping with our unparalleled inspection excellence, our home inspection process goes beyond the typical home inspection. In addition to a normal inspection featuring roofing, ventilation and electrical examinations, we provide home inspection protection services after you move in:
RecallChek for your appliances
SewerGard for your sewer and water lines
MoldSafe for mold inspections
5-Year Platinum Roof Protection Plan for roof leaks
If you find a problem in any of these categories soon after you move in, you're covered. These aren't extras – they're included. When we say we do a full inspection, we mean it.
RADON AND ENVIRONMENTAL TESTING SERVICES
In addition to home inspection, we offer radon testing and environmental testing services. Radon is a tasteless, odorless and colorless noble gas – and it's radioactive. It is estimated radon causes 21,000 lung cancer deaths each year from exposure, second only to cigarette smoking.
Likewise, prolonged exposure to in-house mold and other pollutants has been linked to both neurological effects and death. Additionally, a serious in-house mold problem can be costly to address. The majority of states don't require homeowners to disclose mold issues, known or unknown, and most insurance companies won't cover mold damage.
Besides mold testing, Tri County Home Inspection offers tests for indoor air quality, lead paint and dust, asbestos, among others. Consult our environmental testing pricing structure for more information. Consider environmental and radon testing when booking with us. The small fees now are worth avoiding the high costs and health risks later.
200% MONEY BACK GUARANTEE
Tri County Home Inspection is the logical choice for home inspections in Southeastern Wisconsin. We've been locally owned and operated since the beginning and we're nationally recognized. We're not a name brand, we're a trusted name.
We're so confident in our service that we offer an unheard-of 200% money back guarantee. Attend your home inspection and if you're not completely satisfied, we'll make it right or you owe us nothing. That's only half of the guarantee, though. If we can't make it right, we'll pay for another inspection up to the cost of ours. We value a proper home inspection for our clients above all else.
90-DAY HOME WARRANTY
Our inspections come with a free 90-day home warranty. Our limited warranty covers items declared in working condition during the inspection. The warranty coverage lasts either 90 days from the date of the inspection or 22 days from closing, whichever comes later. Put your trust in us for a proper home inspection.
TRUSTED HOME INSPECTORS
A cheap home inspection may end up being the most expensive purchase you'll ever make. Don't make the mistake of hiring a second-rate home inspection company. Choose Tri County Home Inspection and make sure the job is done right – the first time.
Pick up the phone and call us now. We are happy to talk to you. Make sure the house you choose is perfect for you and your family with a custom home inspection from Tri County Home Inspection. You'll be glad you did.
Tri County Home Inspection, LLC
WisconsinInspection.com
Staffed Office Hours:
8:00AM - 7:00PM Monday - Friday
9:00AM - 2:00PM Saturday
(Office Phone)
(Office Phone)
Serving All Of: Waukesha, Jefferson, Walworth, Ozaukee, Milwaukee, Rock, Dodge, and Washington County's.
Specialties
4 Point Insurance & Property Inspections
Available 7 Days A Week
Basement/Crawl Space/Slab Inspection
Certified Professional Inspector
Commercial & Apartment Property Inspections
Complete Home Inspection Services
Condominium Inspections
Deck Inspections
Drainage Issues
Electrical Inspections
Exterior Inspection
Field Service Inspections
Flat Roof Surveys
Foreclosure Bank Inspections
Home Buyer's Inspection
Home Inspection
Home Inspection Reports Within 24 Hours w/ Photos
Indoor Air Quality
Infrared / Thermal Scans
Insulation & Ventilation Issues
Interior Inspections
InterNACHI Member
Kitchen And Bath Inspection
Licensed & Insured
Log Homes
Mechanicals
Mildew
Moisture & Water Infiltration Testing
Mold
Mold Testing
New Construction Inspections
Pool & Spa Inspections
PRE SALE INSPECTIONS FOR THE SELLER ARE AVILABLE SO YOU CAN SE
Pre-list Inspections
Pre-Listing Seller Inspections
Pre-Purchase Inspections
Pre-Sale Home Inspection
Property Inspections
Radon
Radon Gas Testing Services
Radon, Voc, Mold
Real Estate Inspection Services
Real Estate Inspections
Real Estate Purchase Inspections
Residential Home Inspections
Roof Inspections
Structural Inspections
Town Home Inspections
Trained & Certified
Well Water Testing
Years Of Experience