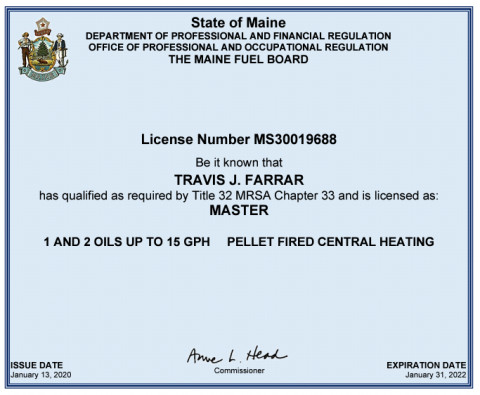 Our company offers home inspections and septic system inspections throughout central, eastern and northern Maine. All inspectors are InterNACHI Certified Professional Inspectors and State of Maine Certified Septic System Inspectors. We offer detailed reports within 24hrs of the inspection.
All inspectors are certified, and fully insured.
We also offer mold inspections, mobile home inspections, pre sale inspections, septic system inspections and more.
All inspectors have at least 5 years of experience and have complete over 200 inspections.
Water Testing available per request for all home inspections, septic system inspections or alone. To schedule a water test or for a Free quote please contact us anytime.
Maine septic system inspector #: 809
Maine septic system installer #: 819
Internachi CPI #: 18102209
IAC2 Mold Certification #: IAC2-10-2461
Maine Limited Wood Pellet Technician License #: LWP30019398
Maine Master Oil License #: MS30019688
EPA 608 Universal Certified
Specialties
4 Point Insurance & Property Inspections
Available 7 Days A Week
Basement/Crawl Space/Slab Inspection
Certified Professional Inspector
Commercial & Apartment Property Inspections
Complete Home Inspection Services
Condominium Inspections
Deck Inspections
Electrical Inspections
Exterior Inspection
Field Service Inspections
Flat Roof Surveys
Foreclosure Bank Inspections
Home Buyer's Inspection
Home Inspection
Home Inspection Reports Within 24 Hours w/ Photos
Indoor Air Quality
Interior Inspections
InterNACHI Member
Kitchen And Bath Inspection
Licensed & Insured
Log Homes
Moisture & Water Infiltration Testing
Mold Testing
New Construction Inspections
PRE SALE INSPECTIONS FOR THE SELLER ARE AVILABLE SO YOU CAN SE
Pre-list Inspections
Pre-Listing Seller Inspections
Pre-Purchase Inspections
Pre-Sale Home Inspection
Property Inspections
Real Estate Inspection Services
Real Estate Inspections
Real Estate Purchase Inspections
Residential Home Inspections
Roof Inspections
Septic System Inspections
Structural Inspections
Town Home Inspections
Trained & Certified
Well Water Testing
Years Of Experience