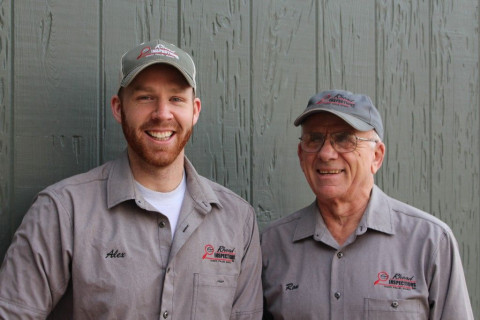 At Rhead Inspections we understand what an undertaking it can be to buy a new Home... Let us help you make an informed decision.
We offer Full Home inspection services including Radon, Mold, Air Quality, Home Energy Audits, Sprinkler Systems, Well Productivity and of course our complete Home Inspections with same day report delivery. If this is your first home please be sure to tell us so we can give you our first time homebuyer discount and answer any questions you may have about the inspection process.
Our Inspectors are all required to follow the Standards of Practice set forth by the American Society of Home Inspectors and are happy to assist in all your inspection needs.
Specialties
4 Point Insurance & Property Inspections
Asbestos Testing
ASHI Certified
ASHI Member
Attic And Garage Inspection
Basement/Crawl Space/Slab Inspection
Carpet & Flooring Inspection
Ceilings & Floors Inspection
Certified Professional Inspector
Commercial & Apartment Property Inspections
Complete Home Inspection Services
Condominium Inspections
Deck Inspections
Drainage Issues
Electrical Inspections
Expert Witness Testimony
Exterior Inspection
Field Service Inspections
Flat Roof Surveys
Foreclosure Bank Inspections
Garages & Garage Doors
Home Buyer's Inspection
Home Energy Audits
Home Inspection
Home Inspection Reports Within 24 Hours w/ Photos
Home Inspection Services
Indoor Air Quality
Infrared / Thermal Scans
Insulation & Ventilation Issues
Interior Inspections
Investment Property
Kitchen And Bath Inspection
Lead Testing
Licensed & Insured
Log Homes
Member Of Idaho Association Of Home Inspectors
Meth Residue Testing
Mildew
Moisture & Water Infiltration Testing
Mold Testing
New Construction Inspections
Online Scheduling
Pest Inspections
Pool & Spa Inspections
PRE SALE INSPECTIONS FOR THE SELLER ARE AVILABLE SO YOU CAN SE
Pre-list Inspections
Pre-Listing Seller Inspections
Pre-Purchase Inspections
Pre-Sale Home Inspection
Property Inspections
Radon Gas Testing Services
Real Estate Inspection Services
Real Estate Inspections
Real Estate Purchase Inspections
Reinspections
Residential And Commercial
Residential Home Inspections
Roof Inspections
Second Opinion Inspections
Structural Inspections
Termite Inspection Services
Town Home Inspections
Trained & Certified
User Friendly Final Report With Summary
Water Testing
We Actually Walk The Roof
Well Productivity
Well Water Testing
Years Of Experience