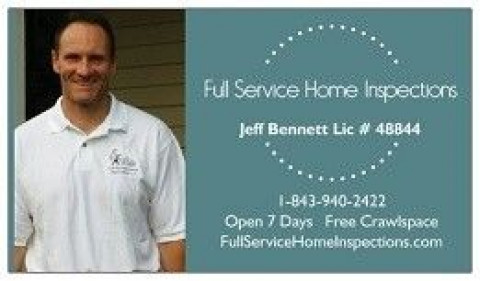 Meticulous Inspection Process and the Most Affordable...Guaranteed & we include crawl space and an intensive attic inspection with moisture readings for free. Open 7 Days and same day reports.
Jeff Bennett, owner of Full Service Home Inspections, LLC is licensed by the State of South Carolina. We meet or exceed the Standards of Practice and Code of Ethics along with the many hours of continuing education required to maintain credentials
Jeff Bennett provides detailed, quality inspections and organized, easy to read Inspection Reports. He will make sure you have all the information you need to make an informed decision about the most important and expensive investment you will ever make, your dream home. You should feel confident in what you are purchasing or selling and Jeff is here to help you with that. His experience combined with his presentation, reporting system and the ability to provide answers, rather than just observations, make his service unchallenged by today's competition.
The property buying process doesn't need to be stressful and complicated. Choosing a qualified, honest, and experienced real estate inspector can give you the knowledge and confidence you need to make sound real estate purchasing decisions. At Full Service Home Inspections, LLC, our comprehensive inspections and commitment to honesty and accuracy bringing peace of mind to every client.
Full Service Home Inspections, LLC conduct residential inspections. Your time is our time. We are available before, during, and after the inspection to answer questions and provide you with the information you need to make the right decision.
We perform inspections as soon as they can be scheduled. If necessary, we will perform inspections on evenings and weekends. We try to make special accommodations in emergencies.
Specialties
1 Year Warranty Inspection
4 Point Insurance & Property Inspections
Attic And Garage Inspection
Attic Inspection
Available 7 Days A Week
Bank Owned
BANK OWNED PROPERTIES
Basement Foundation Inspections
Basement/Crawl Space/Slab Inspection
Builders Warranty Inspections
Carpet & Flooring Inspection
Ceiling Inspection
Ceilings & Floors Inspection
Certified Professional Inspector
Client Will Receive Report Within 48 Hrs.
Complete Home Inspection Services
Condominium Inspections
Condominiums
Deck Inspections
Drainage Issues
Electrical Inspections
Exterior Inspection
Fast Reports
Flat Roof Surveys
Foreclosure Bank Inspections
Foundation Inspections
Furnace Inspections
Garages & Garage Doors
Home Buyer's Inspection
Home Inspection
Home Inspection Reports Within 24 Hours w/ Photos
Home Inspection Services
Home Warranty Inspections
HVAC Inspections
Infrared / Thermal Scans
Insulation & Ventilation Issues
Interior / Basement / Crawl Space Inspection
Interior Inspections
InterNACHI Member
Investment Property
Kitchen And Bath Inspection
Licensed & Insured
Log Homes
Mildew
Mobile & Manufactured Home Inspection
Mold And Indoor Air Quality Services
Mold Testing
Multifamily Inspection
NACHI Member
New Construction Inspections
Plumbing System Inspection
PRE SALE INSPECTIONS FOR THE SELLER ARE AVILABLE SO YOU CAN SE
Pre-list Inspections
Pre-Listing Seller Inspections
Pre-Purchase
Pre-Purchase Inspections
Pre-Sale Home Inspection
Prompt Service
Property Inspections
Real Estate Inspection Services
Real Estate Inspections
Real Estate Purchase Inspections
Reinspections
Residential Home Inspections
Roof Inspections
Septic System Testing
Structural Inspections
Town Home Inspections
Trained & Certified
User Friendly Final Report With Summary
Warranty Inspections
Water Meter Will Test Any Moisture Throughout Home Crawl Space A
We Will Do Roof/attic Inspections
Years Of Experience