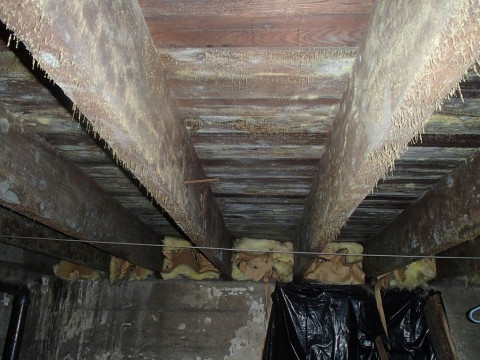 Distinguished Home Inspections offers a complete range of home inspection services with emphasis on quality and concise inspections. We strive to exceed all expectations in order to provide you with a peace of mind. We don't just look at you as another client or customer but as a partner working together to help you achieve your dream.
We understand buying a home may be the biggest investment you will ever make. Many buyers looking for a home to purchase know there is considerable risks involved, but may not be knowledgeable enough to determine those risks. The process can be daunting and stressful. By partnering with Distinguished Home Inspections we will help you reduce those risks and assist you in making a wise investment. At Distinguished Home Inspections we make it our top priority in providing excellent customer right from the start and never stopping until you are 100% satisfied.
Please take a look at some of the photos I have taken over the years on deficiencies I discovered during my home inspections. As you can see, I am one of the few home inspectors who actually will physically climb on top of the roof and perform the inspection. Most other home inspectors will try to perform a roof and chimney inspection from the safety of the ground. Most roof and chimney deficiencies cannot be seen from the ground.
Thank you for considering Distinguished Home Inspections.
Reo Cheshire, CPI
Discover the Truth and Avoid Surprises!
Specialties
1 Year Warranty Inspection
4 Point Insurance & Property Inspections
AHIT Trained
Apartment Buildings
Attic And Garage Inspection
Attic Inspection
Available 7 Days A Week
Bank Owned
BANK OWNED PROPERTIES
Basement Foundation Inspections
Basement/Crawl Space/Slab Inspection
Building Inspection
Building Inspection Service
Carpet & Flooring Inspection
Ceiling Inspection
Ceilings & Floors Inspection
Certified Professional Inspector
Certified Septic Inspection
Certified To Most All Your Inspection Needs.
Certified Well Inspection
Chimney & Fireplace Inspection
Client Will Receive Report Within 48 Hrs.
Commercial & Apartment Property Inspections
Complete Home Inspection Services
Condominium Inspections
Condominiums
Construction Draw
Construction Progress Inspections
Deck Inspections
Drainage Issues
Draw Inspections
ERC Property
Exterior
Exterior Inspection
FHA/HUD Home Inspections
Field Inspections
Field Service Inspections
Flat Roof Surveys
Flooring
Follow-ups If Needed
Foreclosure
Foreclosure Bank Inspections
Foundation Inspections
Furnace Inspections
Garages & Garage Doors
Home Buyer's Inspection
Home Inspection
Home Inspection Reports Within 24 Hours w/ Photos
Home Inspection Services
Home Inspections
Home Warranty Inspections
HVAC Inspections
Insulation & Ventilation Issues
Insurance
Interior / Basement / Crawl Space Inspection
Interior Inspections
Interior Residential And Commercial Inspections
InterNACHI Member
Inventory
Investment Property
Kitchen And Bath Inspection
Lead Testing
Licensed & Insured
Light Commercial Building Inspection
Log Homes
Mechanicals
Merchant Site
Mobile & Manufactured Home Inspection
Mobile Home
Multifamily Inspection
NACHI Member
New Construction Inspections
Occupancy Verification
Partial Inspections
Pest Inspections
Plumbing System Inspection
Pool & Spa Inspections
PRE SALE INSPECTIONS FOR THE SELLER ARE AVILABLE SO YOU CAN SE
Pre-list Inspections
Pre-Listing Seller Inspections
Pre-Purchase
Pre-Purchase Inspections
Pre-Sale Home Inspection
Prompt Service
Property Condition
Property Condition Inspections And Much More.
Property Inspections
Radon Gas Testing Services
Radon Test
Radon Testing
Real Estate Inspection Services
Real Estate Inspections
Real Estate Purchase Inspections
Reinspections
Relocation
Residential And Commercial
Residential Home Inspections
Roof
Roof Inspection
Roof Inspections
Second Opinion Inspections
Septic System Testing
Structural Inspections
Synthetic Stucco
Termite Inspection Services
Town Home Inspections
Trained & Certified
User Friendly Final Report With Summary
Warranty Inspections
Water Testing
We Actually Walk The Roof
We Will Do Roof/attic Inspections
Well Water Testing
Wide Coverage Area
Years Of Experience