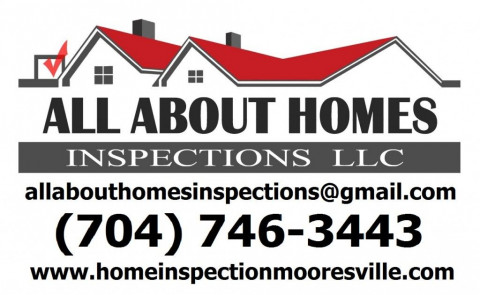 We are a US veteran, family-owned and -operated, independent and unbiased home inspection company proudly serving Mooresville, NC, and the surrounding areas. We at All About Homes Inspections, LLC, focus on the quality of home inspection over quantity. We are a premier and experienced professional contracting company that provides comprehensive property inspection and consulting services. We use our years of experience and expertise to complete your inspection with perfection. We are here for all of your home and pool inspection and radon testing needs. We are fully licensed and insured in North and South Carolina. We will be walking the roof during the inspection and inspecting the crawlspace. Our comprehensive home inspection report consists of over 40 pages of inspected items including all mechanical (HVAC, plumbing, electrical work, etc.), digital colored pictures and a summary sheet--a single, simple page of all suggested or recommended items to monitor, improvement items and repairs. We operate as independent, so we truly have the best interest of our customers in mind.
We take pride in our work while your satisfaction as a customer is our #1 priority. Let us be part of your winning team and work together for your dream home! We are inspecting for our clients, one home at a time!
We are proudly serving Mooresville, Iredell County NC and the surrounding areas.
Specialties
1 Year Warranty Inspection
11th Month Inspection
4 Point Insurance & Property Inspections
AHIT CERTIFIED
AHIT Trained
Apt./Condo Inspection
Attic And Garage Inspection
Attic Inspection
Available 7 Days A Week
Bank Owned
Basement Foundation Inspections
Basement/Crawl Space/Slab Inspection
Builders Warranty Inspections
Building Inspection
Building Inspection Service
Carpet & Flooring Inspection
Ceiling Inspection
Ceilings & Floors Inspection
Certified Home Inspector
Certified Professional Inspector
Chimney & Fireplace Inspection
Client Will Receive Report Within 48 Hrs.
Complete Home Inspection Services
Comprehensive Full Home Inspections
Condominium Inspections
Condominiums
Construction Progress Inspections
Credit Cards Accepted
Deck Inspections
Electrical Inspections
Exterior Inspection
FHA/HUD Home Inspections
Field Service Inspections
Foreclosure Bank Inspections
Foundation Inspections
From Roof To Foundation
Full Home
Furnace Inspections
Home Buyer's Inspection
Home Inspection
Home Inspection Reports Within 24 Hours w/ Photos
Home Inspection Services
Home Inspector
Home Warranty Inspections
Honest And Positive Manner. Our Unique Reporting System
Honesty
HVAC Inspections
Insulation & Ventilation Issues
Interior / Basement / Crawl Space Inspection
Interior Inspections
InterNACHI Member
Investment Property
Kitchen And Bath Inspection
Licensed & Insured
Mechanicals
Mobile & Manufactured Home Inspection
Multifamily Inspection
New Construction Inspections
Pest Inspections
Pool & Spa Inspections
Pools And Spas Inspections
PRE SALE INSPECTIONS FOR THE SELLER ARE AVILABLE SO YOU CAN SE
Pre-list Inspections
Pre-Listing Seller Inspections
Pre-Purchase
Pre-Purchase Inspections
Pre-Sale Home Inspection
Property Inspections
Radon
Radon Gas Testing Services
Real Estate
Real Estate Inspection Services
Real Estate Inspections
Real Estate Purchase Inspections
Reinspections
Residential Home Inspections
Roof Inspection
Roof Inspections
Second Opinion Inspections
Smoke & Carbon Monoxide Detectors
Structural Inspections
Termite Inspection Services
Town Home Inspections
Trained & Certified
User Friendly Final Report With Summary
Warranty Inspections
We Actually Walk The Roof
We Will Do Roof/attic Inspections
Years Of Experience