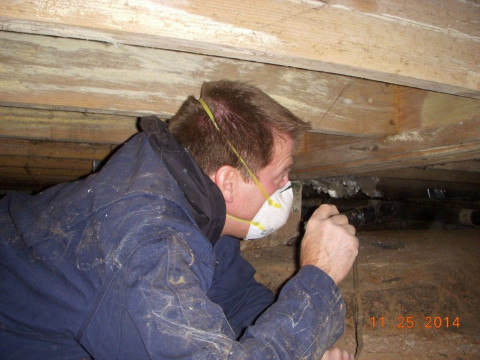 David Sparkes, Top Notch Home Inspection, LLC performs home inspections in Maryville, Knoxville, and surrounding East Tennessee counties.
He has over 25+ years of knowledge and experience in every facet of the building industry. A builder from North Carolina, owning his own construction company for over 11 years, winning several awards which included Best in Show and Best in Price Category, strived for quality in everything he did. Now, while performing inspections continues to carry out the same integrity and perceptiveness to clients and representatives.
Top Notch Home Inspection will perform a professional unbiased home inspection report with the utmost integrity. Our home inspection reports comply with Standards of Practice for Tennessee and organizations like ASHI, InterNACHI, NAHI and others. Providing a professional home inspection report that can be uploaded and delivered the same day with forwarding capabilities. For sellers, we will provide a report that gives 100% disclosure. Giving you and your buyer peace of mind knowing every aspect of the home.
Anytime you are purchasing or selling a property everyone involved should derive a decision based on facts, and we are here to assist you with just that.
We welcome the opportunity to show you the attention and quality that we can provide.
Specialties
AHIT CERTIFIED
AHIT Trained
ASHI Certified
Attic And Garage Inspection
Attic Inspection
Available 7 Days A Week
Basement Foundation Inspections
Basement/Crawl Space/Slab Inspection
Building Inspection
Building Inspection Service
Ceiling Inspection
Ceilings & Floors Inspection
Certified Professional Inspector
Chimney & Fireplace Inspection
Complete Home Inspection Services
Condominium Inspections
Condominiums
Deck Inspections
Drainage Issues
Electrical Inspections
Exterior Inspection
Fast Reports
FHA/HUD Home Inspections
Flooring
Follow-ups If Needed
Foundation Inspections
Full Home
Furnace Inspections
Garages & Garage Doors
Home Buyer's Inspection
Home Inspection
Home Inspection Reports Within 24 Hours w/ Photos
Home Inspection Services
Honest And Positive Manner. Our Unique Reporting System
HVAC Inspections
Interior / Basement / Crawl Space Inspection
Interior Inspections
Kitchen And Bath Inspection
Licensed & Insured
Log Homes
Mobile & Manufactured Home Inspection
Multifamily Inspection
Over 25 Years In Every Facet Of The Building Industry
Plumbing System Inspection
PRE SALE INSPECTIONS FOR THE SELLER ARE AVILABLE SO YOU CAN SE
Pre-list Inspections
Pre-Listing Seller Inspections
Pre-Purchase
Pre-Purchase Inspections
Pre-Sale Home Inspection
Property Inspections
Real Estate Inspection Services
Real Estate Inspections
Real Estate Purchase Inspections
Reinspections
Residential And Commercial
Residential Home Inspections
Roof Inspections
Second Opinion Inspections
State Licensed Building Inspector
Structural Inspections
Town Home Inspections
Trained & Certified
User Friendly Final Report With Summary
We Actually Walk The Roof
We Will Do Roof/attic Inspections
Will Work Sundays
Years Of Experience