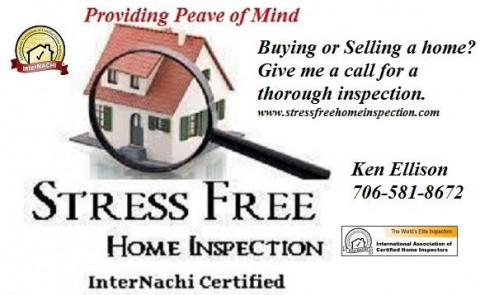 Having your new home professionally inspected by me as early as possible in the buying process can save you thousands of dollars on items, which you may be able to have the seller or builder correct.
At Stress Free Home Inspection, I want to make your house-buying experience as stress-free as possible. By conducting a thorough examination and analysis of its major systems, I can answer any questions you may have about the home's condition and set your mind at ease. After all, shouldn't such an important decision be made with as much information as possible? As they say, knowledge is power.
Why Should You Choose Stress Free Home Inspection Service? Here's Why…
I provide my Clients the "Information" they need to make an informed decision about the property being inspected in a clear, concise, professional manner, with photographs and illustrations. For your convenience, I also e-mail the report to you.
Dalton based Stress Free Home Inspection has a genuine interest in your safety and well-being. Every home is inspected as though I am buying it. From top to bottom, I inspect the property for any existing or potential safety hazards that may exist, and report on them in a clear format. I also check for problems with the structural integrity of the property.
Specialties
1 Year Warranty Inspection
Attic And Garage Inspection
Attic Inspection
Basement Foundation Inspections
Basement/Crawl Space/Slab Inspection
Carpet & Flooring Inspection
Ceiling Inspection
Ceilings & Floors Inspection
Certified Professional Inspector
Chimney & Fireplace Inspection
Complete Home Inspection Services
Deck Inspections
Electrical Inspections
Exterior Inspection
Foundation Inspections
Furnace Inspections
Garages & Garage Doors
Home Buyer's Inspection
Home Energy Audits
Home Inspection
Home Inspection Reports Within 24 Hours w/ Photos
Home Inspection Services
HVAC Inspections
Insulation & Ventilation Issues
Interior / Basement / Crawl Space Inspection
Interior Inspections
InterNACHI Member
Kitchen And Bath Inspection
Mobile Home Inspection
Multi Unit Apartment Inspection
NACHI Member
Plumbing System Inspection
PRE SALE INSPECTIONS FOR THE SELLER ARE AVILABLE SO YOU CAN SE
Pre-list Inspections
Pre-Listing Seller Inspections
Pre-Purchase
Pre-Purchase Inspections
Pre-Sale Home Inspection
Prompt Service
Property Inspections
Real Estate Inspection Services
Real Estate Inspections
Real Estate Purchase Inspections
Residential Home Inspections
Roof Inspection
Roof Inspections
Smoke & Carbon Monoxide Detectors
Structural Inspections
Trained & Certified
User Friendly Final Report With Summary
We Actually Walk The Roof
We Will Do Roof/attic Inspections