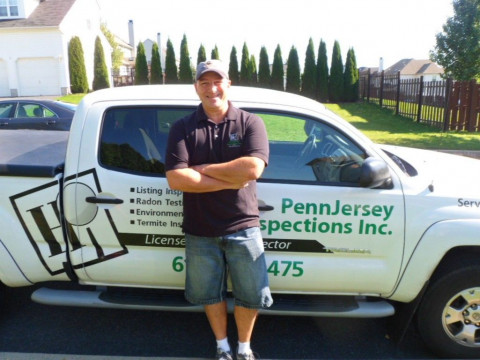 Welcome to PennJersey Inspections Inc. Serving PA & NJ for over 8 years. Whether you're buying or selling a home, having a professional home inspection from a leading home inspection company will give you peace of mind and assist you in a fair and smooth transaction.
PennJersey Inspections Inc. is the premier home inspection company in your area. We have been trusted by home buyers to help them make informed buying decisions. Our home inspections typically range from 2-3 hours long depending on the size of the house.
Our Licensed Home Inspectors understand that providing a Home Inspection for a home buyer is not just about writing a home inspection report but providing information the home buyer can use. A home buyer needs to know that we will be there after the Home Inspection. Having this understanding about the home allows the home buyer to have a better buying experience. Whether you are buying a home in Pennsylvania or New Jersey our inspectors will explain in detail what is in the home inspection report. Protecting Peace of Mind.
Call us today at to book your home inspection!
By using PennJersey Inspections Inc., you benefit from experienced, Licensed inspectors that deliver balanced narrative reports with color photos that meet or exceed the state standards. By being present at the inspection our professional inspector can familiarize you with the home and explain things to you as they move through the house.
Our inspectors are bound to a strict code of ethics, this ensures quality service while providing important protections.
We are: Licensed Home Inspectors, PA-DEP & NJ-DEP Licensed for Radon Testing, Licensed Wood Destroying Insect Inspections, In accordance with PSMA standards for Septic Inspections, Environmental Testing, ASHI Certified Member & AHIT Certified.
We provide to our clients the, Tom Feiza "How to Operate Your Home" professional edition manual as a gift.
This "owner's manual for your home" is a perfect guide for operating and maintaining a home. Not just a repair manual, this book gives owners the information they need to properly operate their homes - just like an owner's manual for a car. More than 600 illustrations and 300 pages with simple text describe the systems in a home. Includes maintenance schedules, a list of product manufacturers, and service guides. A valuable tool to have in the biggest investment of your life.
We are pleased to offer ASHI Certified Home Inspections, Radon Testing, Termite Inspection, Water testing, and Septic testing in the following Counties in Pennsylvania: Northampton County, Lehigh County, Bucks County, Berks County, Montgomery County, Monroe County, Carbon County, Pike County.
The Following counties in New Jersey: Hunterdon County, Warren County, Somerset County
Package Discounts available Fully Insured.
Lic # 0 & ASHI ID# 246497
Call for more information, we are here to serve you 7 days a week. phone:
email:
web: pennjerseyinspection.com
Specialties
4 Point Insurance & Property Inspections
AHIT Trained
ASHI Certified
Available 7 Days A Week
Certified Septic Inspection
Condominium Inspections
Foreclosure Bank Inspections
Home Inspection Reports Within 24 Hours w/ Photos
Home Inspection Services
Indoor Air Quality
Insulation & Ventilation Issues
Licensed & Insured
Log Homes
Mechanicals
Mildew
Moisture & Water Infiltration Testing
Mold Testing
Pest Inspections
Pool & Spa Inspections
Radon Gas Testing Services
Residential Home Inspections
Septic System Testing
Structural Inspections
Synthetic Stucco
Termite Inspection Services
Well Water Testing
Years Of Experience