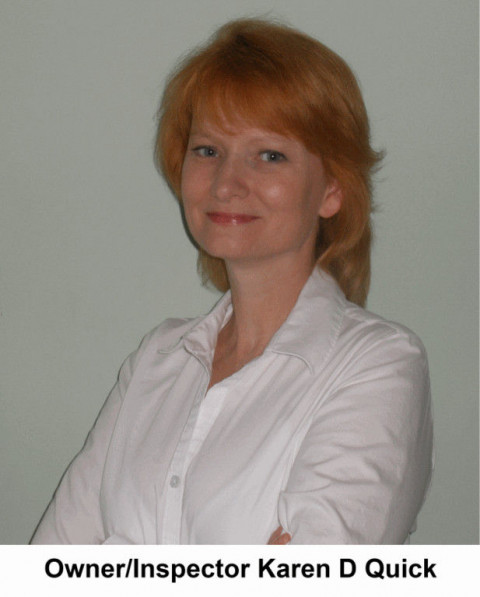 Professional, Certified Inspector, Karen Quick, from Allegiant Home Inspections will assist you with your Real Estate Inspection in Allentown, Bethlehem, Easton and the Lehigh Valley, PA.
"My job is to take the mystery out of a home so that my client can make one of the largest personal and financial decision of their life with confidence."
"My business is to perform a comprehensive and unbiased inspection of the current state of a property and then provide my client with a clear and concise report so that they can make their informed real estate decision with assurance."
"Whether you're buying or selling a home, having a professional home inspection will give you peace of mind and assist you in a fair and smooth transaction."
Specialties
4 Point Insurance & Property Inspections
Apartment Buildings
Apt./Condo Inspection
Attic And Garage Inspection
Attic Inspection
Available 7 Days A Week
Bank Owned
BANK OWNED PROPERTIES
Basement Foundation Inspections
Basement/Crawl Space/Slab Inspection
Builders Warranty Inspections
Building Inspection
Building Inspection Service
Carpet & Flooring Inspection
Ceiling Inspection
Ceilings & Floors Inspection
Certified Home Inspector
Certified Professional Inspector
Certified Septic Inspection
Certified To Most All Your Inspection Needs.
Client Will Receive Report Within 48 Hrs.
Commercial & Apartment Property Inspections
Commercial & Residential Construction
Complete Home Inspection Services
Condominium Inspections
Construction Progress Inspections
Credit Cards Accepted
Deck Inspections
Dispute Resolution
Drainage Issues
Electrical Inspections
Expert Witness Testimony
Exterior Inspection
FHA/VA Foundation Certification
Flooring
Follow-ups If Needed
Foreclosure Bank Inspections
Foundation Inspections
Full Home
Furnace Inspections
Garages & Garage Doors
Home Buyer's Inspection
Home Inspection
Home Inspection Services
Honest And Positive Manner. Our Unique Reporting System
Honesty
Interior / Basement / Crawl Space Inspection
Interior Inspections
InterNACHI Member
Investment Property
Kitchen And Bath Inspection
Licensed & Insured
Light Commercial Building Inspection
Mildew
Mobile & Manufactured Home Inspection
Modular
Moisture & Water Infiltration Testing
Mold Inspections
Mold Testing
Multifamily Inspection
NACHI Member
New Construction Inspections
Partial Inspections
Pest Inspections
Plumbing System Inspection
Pool & Spa Inspections
PRE SALE INSPECTIONS FOR THE SELLER ARE AVILABLE SO YOU CAN SE
Pre-list Inspections
Pre-Listing Seller Inspections
Pre-Purchase Inspections
Pre-Sale Home Inspection
Prompt Service
Property Inspections
Radon
Radon Gas Testing Services
Radon Testing
Real Estate Inspection Services
Real Estate Inspections
Real Estate Purchase Inspections
Reinspections
Residential And Commercial
Residential Home Inspections
Roof Inspection
Roof Inspections
Second Opinion Inspections
Septic System Testing
Structural Inspections
Termite Inspection
Termite Inspection Services
Town Home Inspections
Trained & Certified
User Friendly Final Report With Summary
Water Testing
We Will Do Roof/attic Inspections
Well Water Testing
Years Of Experience