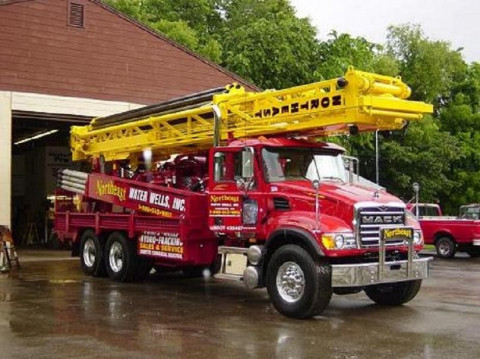 Northeast Water Wells has been providing quality water systems throughout Massachusetts and New Hampshire since 1966. We are fully licensed and insured in both states. Being a third generation company Northeast Water Wells focus has always been on the complete system beginning with the well and continuing with our ongoing customer support.
At Northeast Water Wells Inc not only do we specialize in Water Well real estate testing but also install and service complete water well pumping systems, install artesian water wells, Geothermal well installation, emergency service and so much more. Northeast Water Wells not only specializes in residential applications but we also cover the following applications as well; Commercial systems, Industrial systems, Municipal systems, Community Wells Systems, Geothermal Wells, Agricultural Water systems and Irrigation Wells.
At Northeast Water Wells are services are not limited to well and pump installation we also have a plethora of other services available. Northeast water wells experienced technicians also specialize in Artesian Water Well Abandonment, Well Rehabilitation, Water Well Chlorination, Submersible water pumps, Jet pumps, Constant Pressure Pumps, Pressure Boosting Pumps, Solar/ wind powered pumping systems. Water Pressure holding tanks, Atmospheric Water Holding tanks, Water Quality/ Quantity testing, water conditioning and treatment, filtration, sanitizers, water softeners, hydrofracture, zone fracture, Water Well Maintenance and Well Efficiency Audits.
Northeast Water Wells Inc has very strict employee policies including but not limited to the following; Detailed saftey policy, Osha 10, A No tolerance Drug and Alcohol Policy managed by a third party compliance company, routine background and driving record checks. The saftey of not only our employees but also our clients is our top priority.
Specialties
Available 7 Days A Week
Certified Well Inspection
Commercial & Apartment Property Inspections
Condominiums
Construction Project Management
Dispute Resolution
Field Service Inspections
Home Energy Audits
Home Warranty Inspections
Licensed & Insured
Mechanicals
New Construction Inspections
PRE SALE INSPECTIONS FOR THE SELLER ARE AVILABLE SO YOU CAN SE
Pre-list Inspections
Pre-Listing Seller Inspections
Pre-Purchase
Pre-Purchase Inspections
Pre-Sale Home Inspection
Prompt Service
Radon Gas Mitigation
Radon Gas Testing Services
Real Estate Inspection Services
Real Estate Inspections
Real Estate Purchase Inspections
Residential And Commercial
Residential Home Inspections
Second Opinion Inspections
Trained & Certified
Warranty Inspections
Water Testing
Well Water Testing
Years Of Experience