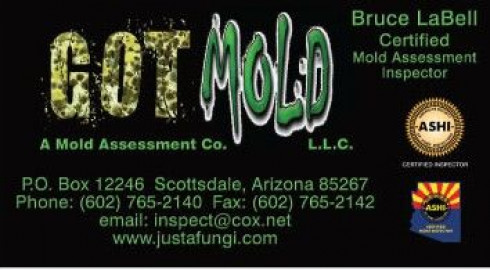 Our Focus is: YOU ... Our Customer
The purpose of a Mold assessment inspection is to provide peace of mind for the homebuyer / home owner . It is intended to show that there are no major problems or deficiencies with the home. It is good for the homebuyer and home owner have that pice of mind Knowing they do not have a sick home
Our Commitment:
We are a company of integrity. We are a company of standards. Our reputation for honest and reliable business conducted is tested and proven in each business transaction we make.
Our Quality:
Today's competitive environment leaves no room for error We must meet our customer's needs and relentlessly look for new ways to exceed their expectations.
Our Integrity:
Today's atmosphere is far more vibrant and customer- driven than ever before. We are playing offense. We are trying new ideas to build our business success through quality and service, our direct relations with customers and each other. But our mission for competitive excellence begins and ends with our integrity to our customers through our commitment to lawful and ethical conduct.
Call Today!
The Best Choice for Mold Assessment Services
Now you can put our outstanding reputation for service and reliability to work for your home inspection needs. With Got Mold you benefit from fully-insured (E&O, Worker's Comp, General Liability), experienced inspectors that deliver written reports that meet or exceed the standards set by the AZ Board of Technical Registration for Certified Home Inspectors in the State of Arizona.
We also encourage your presence during the inspection. That way, our professional inspector can point out and explain potential problems to you first hand. Got Mold Inspectors maintains a strict code of ethics accepted by the Federal government and many states.
Got Mold Inspectors are bound to those ethics, thus insuring quality service while providing important protections.For example, every Got Mold Inspector must:
Work Exclusively for the Customer ,Follow Nationally Accepted Standards of Practice, Not Perform Repairs on Any Home Inspected
Experience is not taught in a classroom. That's why Got Mold Inspectors makes sure our inspectors are trained to be familiar with a wide variety of situations. We believe that consumers have the right to expect the highest standards of thoroughness, fairness and effectiveness from their home inspector.
All Got Mold Assessment reports must be authentic and stand up to critical examination. At Got Mold , we continue to build our reputation one inspection at a time to ensure you get the quality service you expect from us.
Our Mold Inspectors Are:
ASHI Certified Inspectors
Arizona State Certified Home Inspectors
WE OFFER THE FOLLOWING SERVICES:
48-hour scheduling Guarantee
24 Hour sample reporting
C.B.S. Lock Box Access
Saturday Inspections
E-Mailed reports
Digital photos
We accept most major credit cards
Call Today
Specialties
1 Year Warranty Inspection
4 Point Insurance & Property Inspections
AHIT CERTIFIED
AHIT Trained
Air Sampling
Allergen Testing
ASHI Certified
Available 7 Days A Week
Certified Professional Inspector
Chinese (Toxic) Drywall Inspections
Commercial & Apartment Property Inspections
Complete Home Inspection Services
Condominium Inspections
Construction Project Management
Dispute Resolution
Electrical Inspections
Expert Witness Testimony
Exterior Inspection
FHA/HUD Home Inspections
Field Service Inspections
Fire Safety
Flat Roof Surveys
Foreclosure Bank Inspections
Foundation Inspections
Furnace Inspections
Garages & Garage Doors
Home Buyer's Inspection
Home Energy Audits
Home Improvements
Home Inspection Reports Within 24 Hours w/ Photos
Home Warranty Inspections
Hot Tubs
Hotel
HVAC Inspections
Indoor Air Quality
Insulation & Ventilation Issues
Interior / Basement / Crawl Space Inspection
Interior Inspections
Mildew
Mobile & Manufactured Home Inspection
Moisture & Water Infiltration Testing
Mold Testing
New Construction Inspections
Pest Inspections
PRE SALE INSPECTIONS FOR THE SELLER ARE AVILABLE SO YOU CAN SE
Pre-list Inspections
Pre-Listing Seller Inspections
Pre-Purchase
Pre-Purchase Inspections
Pre-Sale Home Inspection
Property Inspections
Radon Gas Testing Services
Real Estate Inspection Services
Real Estate Inspections
Real Estate Purchase Inspections
REO
Residential Home Inspections
Restaurant Inspections & Environmental Services
Roof Inspections
State Licensed Building Inspector
Synthetic Stucco
Termite Inspection Services
User Friendly Final Report With Summary
We Actually Walk The Roof
We Will Do Roof/attic Inspections