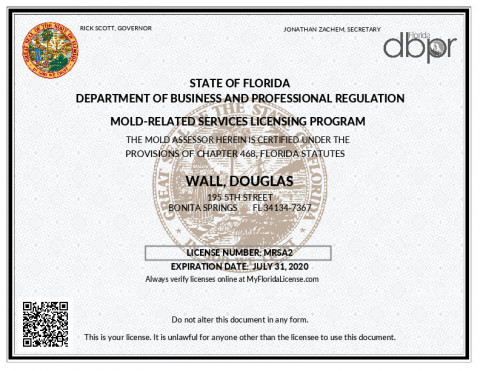 Radon Testing & Mold Inspections is our business, NOT a side job for us. WE ARE NOT GENERAL HOME INSPECTORS.
* Mold Assessment (Inspection),Testing for Pre & Post Remediation Projects and Real Estate Transactions.
Over 9,000 mold assessments for residential and commercial properties.
* Radon Tests performed for residential and commercial properties, including multi- living units, schools and assisted living facilities.
Over 23,000 Real Estate radon tests and about 8,000 for commercial properties.
* Infrared thermal imaging cameras, moisture meters, etc used on all mold inspections.
Detailed reports with source identification,documentation of suspect conditions and recommendations for corrections if needed
* All of our inspectors are ACAC Board Certified Indoor Environmentalists, and licensed by State of Florida.
* FLORIDA LAW (Statues 468.84) REQUIRES MOLD ASSESSORS (inspectors) TO BE STATE LICENSED BY THE DBPR, ***** HOME INSPECTOR LICENSE DOES NOT QUALIFY AS MOLD ASSESSOR LICENSE (NO LICENSE DOES). ****** HIRE LICENSED MOLD ASSESSORS (INSPECTORS). ******
* Radon Testing by FL DOH certified Radon Measurement Business RB1938.
Radon companies MUST be certified by Florida DOH to perform radon testing.
.
Naples, Bonita Springs, Estero, Fort Myers, Cape Coral and Marco Island Mold Inspections and Testing by ACAC board Certified Indoor Environmentalists licensed for mold assessment by the Department of Business and Professional Regulation.. Mold E&O for both mold assessment and for clearance inspections.
Serving SW Florida since 1999.
.
Radon & Mold Professionals:
Radon Testing - Mold Inspections - Mold Testing - Allergen Screening
Volatile Organic Compounds Testing - Odorous/Chinese Drywall Assessment
$2 million Liability / Errors & Omissions Insurance
Microbial Consulting Coverage: $1,000,000 / $1,000,000 limit / claims made
Specialties
Air Sampling
Allergen Testing
Condominium Inspections
Formaldehyde And VOC Testing
Home Buyer's Inspection
Indoor Air Quality
Infrared / Thermal Scans
InterNACHI Member
Licensed & Insured
Mildew
Moisture & Water Infiltration Testing
Mold And Indoor Air Quality Services
Mold Testing
Pre-Listing Seller Inspections
Pre-Purchase Inspections
Radon Gas Testing Services
Radon Testing
Real Estate Inspection Services
Real Estate Inspections
Residential And Commercial
Town Home Inspections
Years Of Experience