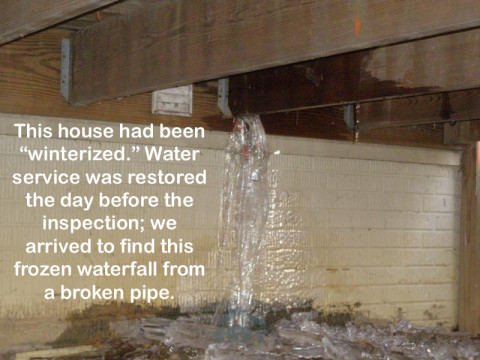 Inspections by Bob has provided exceptional home inspection services in Maryland on all types of homes, from 1700s historic homes to brand new construction. To provide our clients with all the information they need, we offer only appointment slot per day; this means we're not rushing through an inspection in order to make our next appointment. We encourage our clients to follow us around during the inspection, which lets us tell you about how the home operates and how what to do to keep it running well.
At the end of the inspection, we review the significant findings along with their implications, and answer all your questions. You will come away with a binder of helpful information, along with a copy of "How to Operate Your Home," a 140-page book full of home maintenance tips. The full report will be available within 24 hours.
Inspections are available for real estate transactions, pre-listing inspections, home checkups, pre-drywall and final walkthrough inspections for new construction, and any time you want to know the condition of a property. Weekend appointments are available (a surcharge applies). We serve Montgomery, Frederick, Howard and Washington counties in Maryland. Radon tests available in most areas. Water quality testing is also available.
We are not connected with any contractors or Realtors. MD license #29666 & #31275 , Full ASHI Members (# 212016 & #252093).
Cash/Checks/MC/Visa/Amex.
Visit our website, or check us out on Facebook and Instagram!
Specialties
ASHI Certified
Available 7 Days A Week
Certified Professional Inspector
Complete Home Inspection Services
Condominium Inspections
Condominiums
Deck Inspections
Female Inspector Available
Foreclosure Bank Inspections
Home Buyer's Inspection
Home Inspection
Home Inspection Reports Within 24 Hours w/ Photos
Home Inspection Services
Home Warranty Inspections
Independent Inspectors
Infrared / Thermal Scans
Licensed & Insured
Log Homes
Moisture & Water Infiltration Testing
New Construction Inspections
PRE SALE INSPECTIONS FOR THE SELLER ARE AVILABLE SO YOU CAN SE
Pre-list Inspections
Pre-Listing Seller Inspections
Pre-Purchase
Pre-Purchase Inspections
Pre-Sale Home Inspection
Prompt Service
Property Inspections
Radon Gas Testing Services
Radon Testing
Real Estate Inspection Services
Real Estate Inspections
Real Estate Purchase Inspections
Reinspections
Residential Home Inspections
Structural Inspections
Town Home Inspections
Trained & Certified
User Friendly Final Report With Summary
Well Water Testing
Years Of Experience